My teenage daughter is 14 and my son is 11. I'm getting more and more aware that they are quickly growing up and will one day be looking to go on their own adventures without me and I wanted to get a trip to Orlando in before that happens !
As a teenager back in the 1990's my Nan took my family away to Florida with money she got from a redundancy payment – it was one of the kindest things and we all still talk about the memories to this day.
So I've always had this ambition to take my children there and give them that kind of experience too.
I decided to take them away for Christmas as I thought it would be an amazing time to see the Theme parks and also get some winter sun.
Well the winter sun wasn't there for us – it turned out when we went Florida that there was an abnormal weather front creating really cold conditions not seen at this time of year in Florida for decades. This meant we had to wear a few more layers but actually resulted in the queues being smaller at the rides – so kind of worked in our favour 😉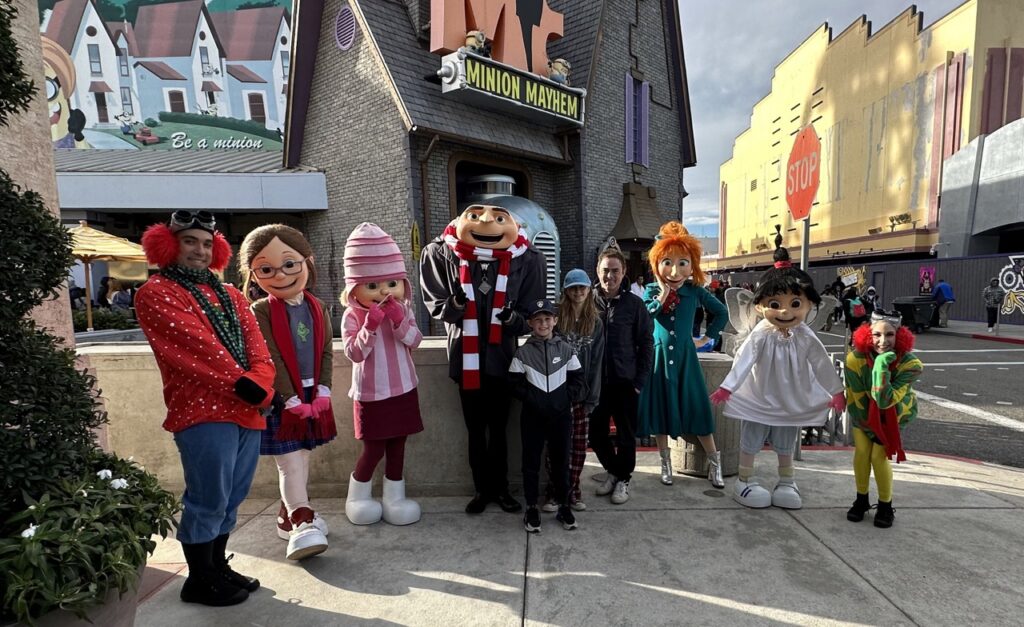 It was a really amazing vacation and just recently I over heard my children talking about how it was the best holiday they've had.
Here's the details on what we booked, some tips and ideas that may help you plan your Orlando getaway :
Flights and Hotel
There are endless options when searching for a hotel in Orlando. I searched mostly on Tui and Virgin Holidays as these are two of the biggest package holiday operators to Florida in the UK. I wanted a simple booking solution that took care of everything. After a little back and forth I decided to go with Virgin.
I made my booking online including the flights, hotel, car and theme park tickets to Universal Studios and Disney World.
Virgin allow you to put down a deposit and pay the balance when you can as long as it is before a certain deadline which they will give you.
Price change
I had booked my holiday and suggested my sister join me – when I did, I noticed that the price for my holiday had gone down by around £1000 but I was still to pay the original cost. I approached Virgin and they upgraded my seats and reduced my overall cost of holiday. They explained to me about the way the system works and quoted : "Our system runs on live availability, with the prices set by our suppliers. For this reason, prices are always subject to change based on the deals the suppliers are offering at the time."
So be aware of this when you are booking.
The Flight
We were very excited to start our holiday onboard the Virgin Atlantic jet. Unfortunately soon after take off we became aware of the screens not working at our seats, which meant no entertainment for the whole flight. We mentioned the situation to the staff who provided us with alternative seats at the back of the plane. These were cold and very close to the loos. It was not a great flight out (but I appreciate this is a first world problem !).
Collecting the car
Picking up the car from the parking lot at Orlando airport was super easy and we made use of the service Virgin provide, where you can send all your documents like your driving license in advance. It was probably one of the easiest car collections I have ever had.
The hotel – Coco Key Resorts
This hotel appealed to me as it had a waterpark and had a kind of retro feel in the photographs – perhaps reminding me of the trip back in the 90's !
On arrival it felt dated and although I wanted to fall in love with its rustic charm, it didn't quite do it for us. The carpets felt dirty, the beds were uncomfortable, the plug sockets felt dangerous and the shower a little unclean. There were some good points to it such as the location – walking distance from lots of American food outlets and it being a stones throw away from Universal Studios. It also has its own Starbucks for your morning coffee. However if I was coming to Orlando again, this wouldn't be my first choice of place to stay.
Luckily I had enough in our budget to move us out of the hotel for a couple of nights and after a little search on Booking.com I got us a room at the amazing Universal Studios hotel called : Aventura Hotel.
This hotel was one of the best we have ever stayed in. It was modern, clean and bright. It had amazing views from the rooms and when you stay in a Universal Studios hotel, you get a free shuttle to the parks, plus early entrance options – so we got to beat some more queues too !
I would 100% recommend this hotel for a trip to Orlando. It is not one of the cheapest, but if your budget allows you to stretch to this – go for it !
Theme Park Reviews – for an 11 year old and 14 year old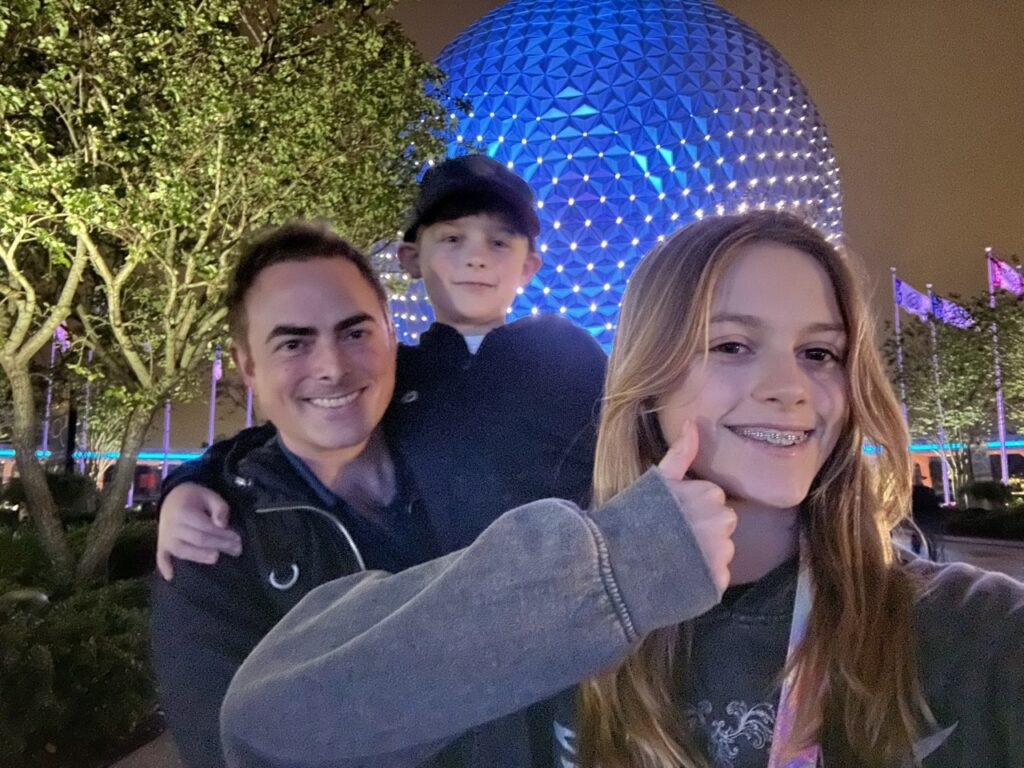 Disney World Florida
We booked the Disney tickets which were offering 14 days passes, even though we were only able to do 4 days. One day per park (Magic Kingdom ® Park, EPCOT ® , Disney's Hollywood Studios ® and Disney's Animal Kingdom ® ) felt like enough to us. We got there early and stayed late, giving us a chance to go on all the rides we wanted. We could have gone back to a couple of parks if we had more time, but we were fine with the days we had as we wanted to also do Universal.
Our favourite rides : Guardians of Galaxy, Ratatouille, The Twilight Zone Tower of Terror™, Expedition Everest, Avatar Flight of Passage, and Star Wars: Rise of the Resistance. Although there are so many more !!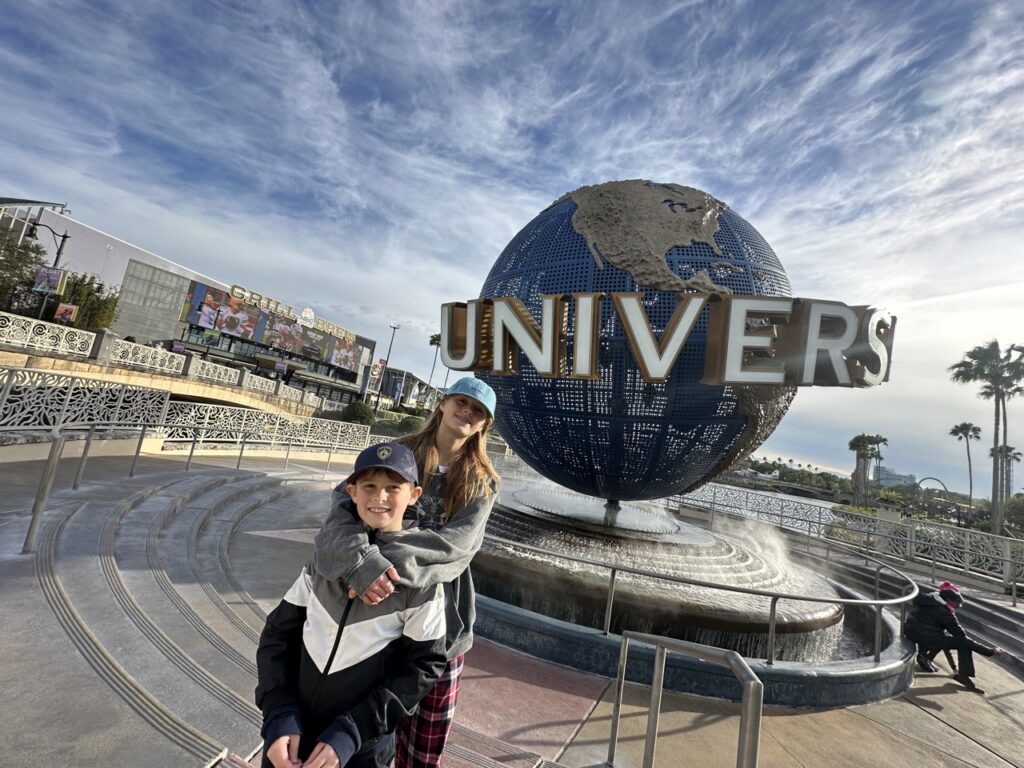 Universal Studios Florida
My children much preferred Universal for the amount of thrill rides they have. The park is split in two and it's listing both sides. Get the connecting train if you can.
Our favourite rides: Harry Potter and the Escape from Gringotts, The Incredible Hulk Coaster, Hagrid's Magical Creatures Motorbike Adventure, Jurassic World VelociCoaster and Revenge of the Mummy were just a few of the best. This park has so many to list !
Eating at the Parks can be expensive, so eat a good breakfast !
What else was there time for ?
We usually had breakfast at our resort or popped to McDonald's on the way to the park. In the evenings places like Tacobell, iHop, Denny's and similar were all on offer. This took up most of the left over time from visiting the parks.
We had one morning where we visiting Target stores to get sweets and candy as gifts for friends and family in the UK.
Did we want or need more time ?
It was a full and fun packed holiday. If we had more time, we could have possibly re-visited a couple of parks or looked at other attractions close by. However this vacation was all about the Theme park time and we had the time of our lives !!
Some FAQ's about the parks

What Are the Best Times to Visit Disney World Resort and Universal Studios Florida?
Disney World Resort: The best times to visit Disney World are typically during non-peak seasons, such as weekdays in January, February, September, and early December. Avoid major holidays and school vacation weeks for smaller crowds.
Universal Studios Florida: Similar to Disney, weekdays during non-peak times are ideal. Late January to early February and September are good options. However, Universal often has special events, so check their calendar for crowd predictions.
How Can I Save Money on Tickets and Accommodations?
Both parks offer discounts for multi-day tickets. Buying in advance and online can also save you money. Consider staying off-site for accommodations to reduce costs, but factor in transportation to and from the parks.
What Should I Pack for My Visit?
Comfortable clothing and shoes are a must, as you'll be doing a lot of walking. Don't forget sunscreen, hats, and refillable water bottles. Depending on the season, bring ponchos for unexpected rain showers.
How Can I Maximize My Time at the Parks?
Plan ahead! Make a rough itinerary, prioritize your must-see attractions, and use the Disney Genie+ system (for Disney World) or Universal Express Pass (for Universal Studios) to skip lines. Arrive early to take advantage of shorter wait times.
What Should I Know About Dining and Reservations?
For both parks, dining reservations are highly recommended, especially for popular restaurants. Disney World allows you to book dining reservations up to 60 days in advance. At Universal Studios, consider dining in CityWalk for more diverse options